The PLACE project in Baltimore was a community-based humanities project. UMBC faculty, staff, and students worked collaboratively with community organizations and residents to define the social issues on which the project was going to focus and used humanities methods to document, discuss and draw attention to community experiences around those issues. A diverse group of eight UMBC students participated: Alexis Stone, Briscoe Turner, Emily Paul, Nic Nemec, Shannon Cheek, Sydney Fryer, Tony Cano, and Violeta Brito. The research leaders were Dr. Felipe Filomeno, of the Department of Political Science, and Dr. Romy Hübler, of the UMBC Center for Democracy and Civic Life. Other UMBC faculty and staff members participated as consultants: Dr. David Hoffman, Dr. Dawn Biehler, Dr. Nicole King, Dr. Tania Lizarazo, and Professor Steve Bradley. Their collaboration occurred through a series of activities from October 2019 through April 2022:
The Baybrook Community Dialogue In fall 2019, the UMBC PLACE project team facilitated a dialogue between residents of Brooklyn and Curtis Bay at Maree Farring Elementary/Middle School. The goal was to make connections with community members and learn what they considered to be the main community assets, challenges and aspirations. Community members emphasized public safety, opportunities for youth, and community engagement as key issues.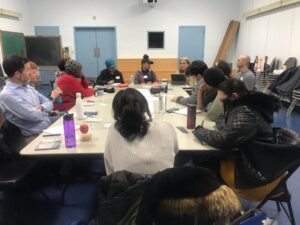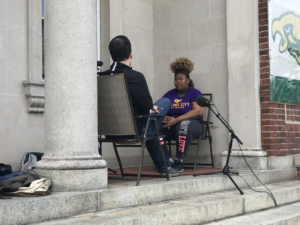 Public Humanities and Community Organizing Workshops UMBC faculty, staff and students facilitated a series of workshops for students and community members on humanities methods. Workshops emphasized how those methods could be used for community organizing and action. Topics included one-on-one interviews, photo-voice, digital storytelling, oral history, and community artwork. In spring 2020, UMBC students and community members attended the workshops on campus and in the Brooklyn public library as part of an undergraduate course in community research. In spring 2021, Ben Franklin High School students attended the workshops virtually as part of two research methods classes taught by Ethan Gonzales.
Interviews with Ben Franklin High School faculty and staff
In spring 2021, PLACE community fellows conducted online interviews with Ben Franklin faculty and staff members to learn their views on the resources, needs and aspirations of youth in the Brooklyn and Curtis Bay area.
Documenting Student Mental Health Resources, Challenges and Aspirations
In summer 2021, three Ben Franklin High School students – Kevin Cuatianquiz, Mekhiyah Spell, and Stephanie Estep – joined the project as PLACE community fellows. Based on their insights, the team decided to focus the project on student mental health. Students, faculty and staff in the PLACE team then spent over six months documenting the resources and needs of Ben Franklin students around mental health using photography, video, and text. The results, which include materials from the community dialogue and interviews with Ben Franklin faculty and staff, are published below. In spring 2022, the UMBC PLACE project team leaders presented multimedia material from the website to Ben Franklin administrators, faculty and staff. After the presentation, the group considered how to move forward to enhance student mental health.
Producing a Documentary: In fall 2021 and spring 2022 members of the PLACE team created a video featuring community voices that narrates the story and findings of the project. The video can be found here.

Photo-Voice Exhibit: In fall 2021, Ethan Gonazles asked students in his classes to contribute to a photovoice project as a way to gather and learn from the students' insights about the environments, relationships, and services at Ben Franklin High School that supported their mental health. Each participating student took photos of places at the school where they felt that they mattered and belonged, and responded to the following prompts about their images:
This picture shows …
I feel like I matter and belong here because …
The people who help me feel like I matter and belong when I am in this space include …
People have helped me feel like I matter and belong in this space by …
The themes that emerged in the students' submissions included their feeling that they mattered and belonged when peers, faculty, and staff acknowledged their existence, listened to them, believed in and affirmed them, were patient with them, and provided guidance and support that allowed students to make their own choices. In addition, they felt that they mattered and belonged when they had time and space to interact as they chose.