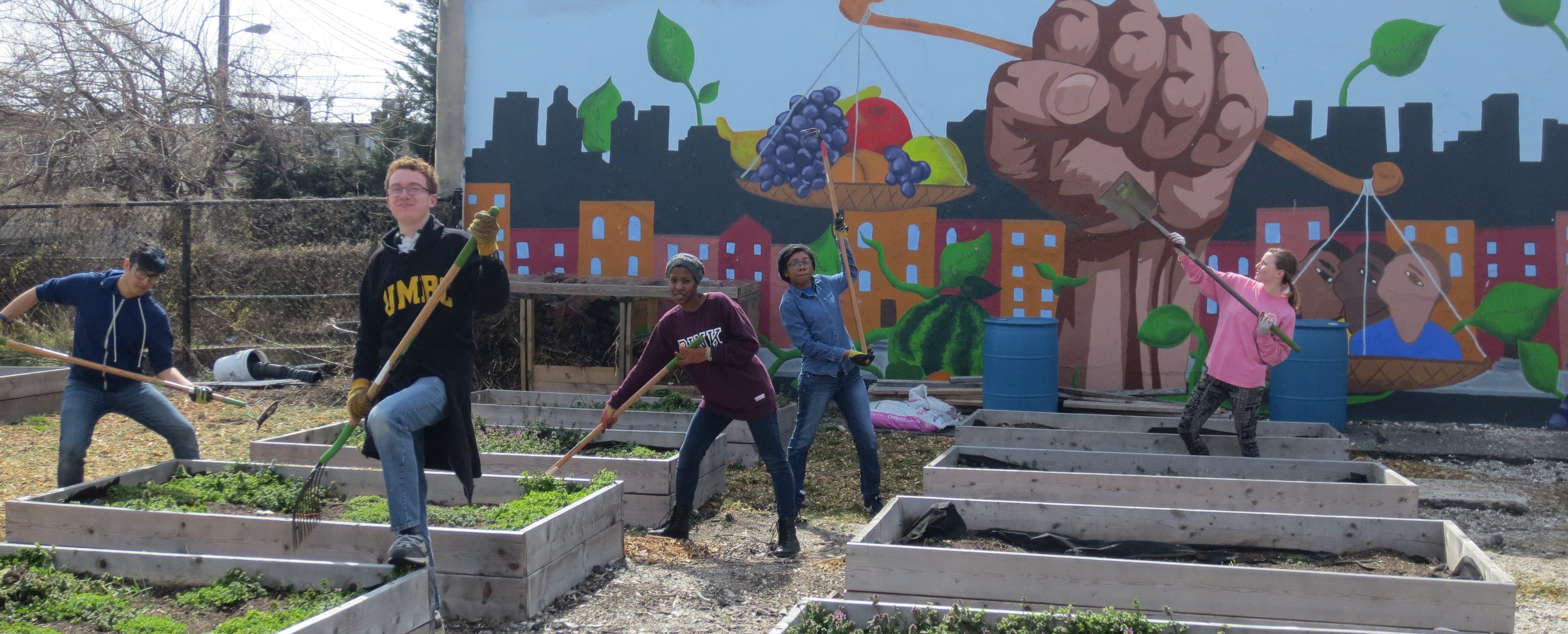 Alternative Spring Break (ASB) is a six-day immersive learning experience focused on a variety of social issues in Baltimore. ASB groups work with community partners, government officials, and scholars to foster sustainable connections and lay the groundwork for long-term collective civic action addressing disparities resulting from structural racism and other systemic inequities. ASB helps participants develop six civic capacities described in the Civic Learning and Democratic Engagement Theory of Change: 1) Civic literacy and discernment; 2) civic agency; 3) real communication; 4) critical solidarity; 5) civic courage; and 6) integrity and congruence (p. 11). Participants find the experience engaging, inspiring, educational, and transformative.
"ASB… has not only taught me but showed me that I am powerful and can do a lot more than I thought I could."

— ASB Participant

Group Leaders
Group leaders work with the Center for Democracy and Civic Life to position students effectively as knowledgeable advocates and active, engaged co-creators of a thriving democracy and civic culture. Throughout the Spring Break week, leaders and participants think critically about complex challenges and ways to address them. Each group focuses on a specific topic, but the groups also consider overlaps among their issues.
All undergraduate students are invited to apply. Leaders need to be motivated, committed, creative, and detailed-oriented. Preferred but not required: Applicants will have participated in ASB or a similar multi-day experiential learning program.
Past group leaders have explored a variety of questions, such as:
How are food disparities created, perpetuated, and challenged in Baltimore City?
What is the relationship between growth in Baltimore and the quality of life for disenfranchised residents? What can be done to address community displacement?
How do people who have been formerly incarcerated transition back to living and working in Baltimore City? What can be done to support that transition?
How do healthcare disparities affect Baltimoreans' sexual health and healthy relationships?
How do individuals with disabilities experience social injustices? What can be done to address this issue?
What are the difficulties and barriers that people experiencing homelessness face in Baltimore and what can be done to mitigate those issues?
Group leaders can choose to explore those questions or propose new ones.
The application process for group leaders takes place in April (11 months before the experience). Students interested in participating can apply starting in October. For more information visit the Center for Democracy and Civic Life page on myUMBC.
"I was somewhat nervous going in, and wasn't sure what to expect…I feel as if I came away with an enriching experience that I will never forget."

— ASB Participant